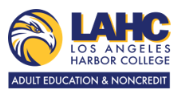 Adult and Noncredit Education
Noncredit classes offered are free and open to our adult community members. We aim to help students find better opportunities, earn certificates and degrees. Education changes everything, and noncredit programming gives everyone that opportunity.
We are located in Technology 204 (Second Floor, Parking in Lot 6 or 8)
Monday to Thursday: 9:00 AM to 7:00 PM
Friday: 9:00 AM to 12:00 PM
Saturday: 8:00 AM to 12:00 PM
Sunday: 9:00 AM to 1:00 PM
Winter 2024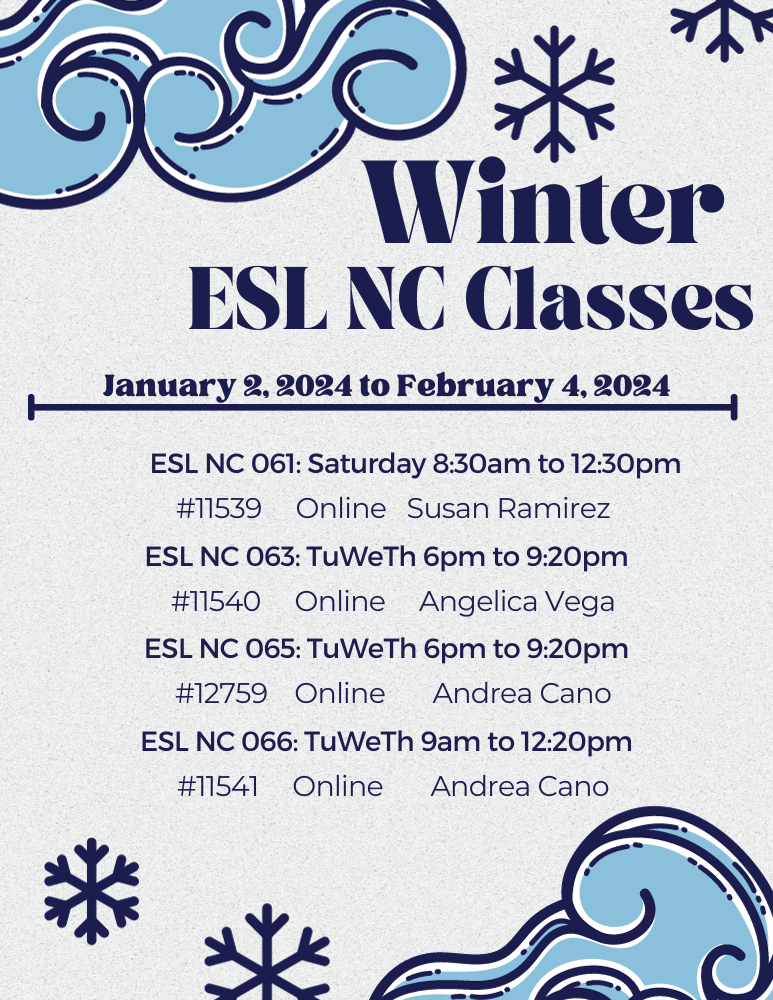 FAQ
Are your classes FREE?
Noncredit classes are free — with no registration or enrollment fees, proof of residency or prerequisites. Most noncredit classes are open entry/exit and may be repeated as many times as needed to progress to the next level.
I am a student interested in your programs and classes, but I don't live in California, what do I need to?
Noncredit Adult Learners must be living in California. If you're an out-of-state student, please visit nld.org for schools in your area.
What is the difference between noncredit and credit classes?
When you take credit classes, you are typically working toward a degree or certification. Noncredit classes are designed to develop skills through short-term training, and you will receive either a pass or no pass grade at the end of the course. There are tuition fees associated with credit classes. Noncredit classes are free of charge.
Is financial aid available for noncredit courses?
No. Federal Financial Aid is not available for noncredit classes. Noncredit classes are tuition free. Students are responsible for the purchase of books and supplies. Financial aid is not available for these materials.
Are there grades in noncredit course?
Yes. Grading options for noncredit classes include:
Pass (P) = Satisfactory completion of course

No Pass (NP) = Did not complete course satisfactorily

Satisfactory Progress (SP) = Satisfactory progress towards completion of course
Why should a student take noncredit courses or a noncredit certificate program?
Noncredit classes assist students seeking to improve Math or English proficiency, increase literacy and job skills, prepare for college-level courses and advance employability.
Can noncredit classes be transferred to another college?
No units are earned in noncredit courses and, therefore, are not designed for transfer to secondary institutions, nor do they apply toward a degree.
Are noncredit vocational certificates recognized in the industry?
Yes. Many of these certificates are favorably recognized by their respective industries, and are frequently used as a valid signifier of professional advancement.
Can undocumented community members take noncredit courses?
Yes, undocumented community members can take noncredit courses. The noncredit CCC Apply college application does not ask for residency status. The hours earned in noncredit courses can count toward an individual's AB 540 status. Contact the college's Admissions and Records office for more information.
Can I take courses if I do not have a high school diploma or equivalent?
Yes, all community members can take noncredit courses. However, we strongly encourage all students to complete their high school diploma or earn a GED. High school equivalency classes and testing are available at LAHC Adult and Community Education. 
For more information, visit LACCD webpage: https://www.adultedlaccd.com/faq-page