Welcome to the Los Angeles Harbor College Financial Aid web page. Through financial aid and scholarships we can help you reach your educational goals by assisting you in applying for fee waivers, grants, scholarships, work-study, and student loans. Please take the time to browse our site and obtain the information you need. As the college continues to address student safety and health concerns, our lobby hours are open Monday through Thursday. Our staff is available via Cranium Cafe and as always, we can be reached via email at finaid@lahc.edu.
You can also call the office to receive general financial aid information at (310) 233-4320
Application for Financial Aid
---
2023-2024
If you need financial aid to help with your expenses you should complete a Free Application for Federal Student Aid (FAFSA) today! The application for the 2023-2024 academic year became available on October 1, 2022. Make sure to fill out your 2023-2024 FAFSA and complete the financial aid process as soon as it is available. Check the "To Do list" on your Student Portal for updates to ensure that your financial aid will be in place for Fall 2023. Use the steps below to apply for financial aid. If you need additional assistance filling out your FAFSA please visit our Financial Aid TV site for helpful videos and information- laharbor.financialaidtv.com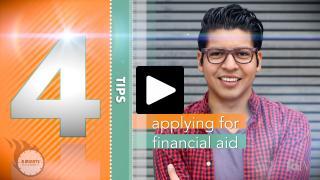 Applications Steps:
If your application is selected for verification, you will need to provide additional paperwork. The paperwork may include, but is not limited to:
Verification Worksheet
2 years prior Federal Tax Return forms or IRS Tax Return Transcript. (Transcripts are available online at the IRS website) If you successfully used the IRS Data Retrieval Tool and did not change any of the data, the transcript is not required.
If you are an independent student or a parent of a dependent student and you did not file taxes, you will be required to submit proof from the IRS that you did not file taxes 2 years prior to the start of the academic year (i.e. for the 2022-2023 academic year it is required proof of non-filing for 2020.)
Check your "To Do List" on the Student Portal ​to identify any documentation that you need to submit.
If you are attending both Fall and Spring semesters, the documentation must be submitted by the last day of the school year. If you are only attending one semester, the documentation must be received by the end of the semester.
​​The California Dream Act Extends Eligibility for State Financial Aid t​o Students that Meet AB-540 Eligibility Criteria
Students that meet AB-540 eligibility criteria are able to apply for financial aid from the state of California. This includes Cal Grants and fee waivers for students attending California Community Colleges. Apply online using the California Dream Application.
Mission Statement
The mission of Financial Aid programs is to make college education accessible to individuals who would otherwise be unable to attend college​.
Additional Financial Aid Information
For comprehensive information on Financial Aid in the Los Angeles Community College District (LACCD), view or download the Los Angeles Community College District "Your Helping Hand to Understanding Financial Aid" brochure, available as an Adobe Acrobat Portable Document Format (PDF) file.
Contact the Financial Aid Office
Lobby Hours and Location
Monday, Tuesday, and Thursday: 9:00 am - 4:00 pm
Wednesday 9:00 am - 7:00 pm
Friday: 8:00 am - Noon
Student Services & Administration Building (SSA) Lobby

Federal School Code: 001224
Cranium Cafe Hours
Monday - Thursday 9:00AM - 3:00PM
Friday - Sunday: Closed