Commencement Ceremony 2022
(Student Information)
Help a Felllow Seahawk and Donate your Gown AFTER graduation. - Donate your Gown
Congratulations on your monumental accomplishment! All of us at Los Angeles Harbor College share your families and friends' excitement on your completion of an A.A., ADT, CTE Certificate, and or completion of Transfer requirements. This year marks our 73rd year where students like you have participated in our commencement exercises. To ensure your experience creates lasting memories for you and your loved ones, please familiarize yourself with the following information:
Commencement Registration
If you plan to participate in this year's commencement exercises, please register online HERE.
Failure to register can delay your ability to participate in the commencement exercises.
Commencement Date
Tuesday, June 7, 2022 - 10:00 a.m.
Los Angeles Harbor College Seahawk Stadium
Please note that you will be walking on artificial grass. High heels will not be permitted!!!
Schedule of Events for Commencement
8:00 a.m. Graduates/students are welcome to start arriving.
Encourage your guest to visit our family and friends webpage.
You will check-in at the Graduate Check-In Booth located at the north entrance of the Gymnasium. You must check in to receive your name card. Your name card will be used to announce your name during the ceremony as well as provide your information for Grad Images (see picture taking section for information).
9:30 a.m. Class of 2022 Graduate Picture
9:40 a.m. Graduates start to line up
10:00 a.m. Processional begins for the ceremony
12:00 p.m. Ceremony ends
COVID Safety Protocols
If you, or your guests, should have symptoms or are currently in isolation/quarantine period due to recent infection or exposure, for your safety and the safety of others, you cannot attend.
Since our event is outside, masks are not required but are strongly recommended.
Please note that protocols are subject to change. Information on protocol updates will be communicated to graduates/candidates to share with guests by email or another appropriate mechanism.
Cap & Gowns (Academic Regalia - Purchase ASAP!)
Available in the Seahawk Shop (Bookstore). Visit their website for their business hours of operation.
Commencement Rehearsal
Graduation Rehearsal will take place on Monday, June 6 at 3 pm in the gymnasium. Not Mandatory but highly encouraged! Updated 5/4/22. Watch Social Media for a video - stay tuned!
Campus Directions and Map
Parking & Public Transportation
The following options are available:
Seating
Tickets are not required! Guests, family, and friends are welcome to attend. Seating is on a first-come, first-served basis. Please inform your guests of the following:
Guest with balloons will be asked to return them to their vehicles.
Saving of seats will not be permitted.
Taking pictures in the aisles or in front of the stage will not be permitted.
Persons with Disabilities
There will be designated areas for persons with disabilities. More information to come.
Strollers
Due to Fire Safety Regulations strollers will not be allowed in the general audience seating.
Pictures
Professional photographers from Grad Images will be taking your picture as you enter and walk across the stage to receive your diploma. Make sure to follow the instructions below to ensure your special moment is captured and memorialized for perpetuity:
Start at the Check-in table where you will receive your name card.
Fill our both sides of the card.
Hand your card to the Grad Images to the announcer as you walk on stage.
The backside of the card has the phonetic spelling of your name, which will be used to announce your name.
Grad Images will then use the name card information to communicate with you directly. Make sure to fill in your complete information. PRINT CLEARLY, so that your name and address can be read easily.
Commencement Committee Announcement
The Los Angeles Harbor College Commencement Committee has been working hard to make sure your Graduation is a memorable one. Please help us by asking your family and guests to follow all directions given by all college and safety personnel. Their cooperation is greatly appreciated.
Additional Celebrations you can be a part of:
Academic Excellence
On May 17, 2022 - 1 pm to 4 pm, we will honor all students who received a President's and/or Dean's Honor Roll Award. during the Fall 2020, Spring 2021, and Fall 2021 semesters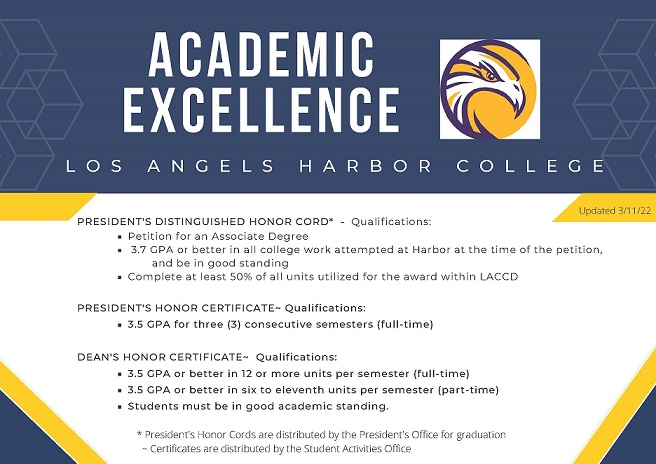 Academic Honors & Awards Celebration RSVP Students Receiving the President's Distinguished Honor Cord will be contacted individually. Follow us on Instagram, Facebook, and Tweet (Twitter) about LA Harbor Commencement using #lahcgrad2022 throughout Commencement
Helpful Hints:
Iron your gown to take out the wrinkles from the packaging
Practice putting on the white-collar. It is not an easy thing to do by yourself.
Wear sunscreen and dress for the warm weather.
Graduation is not a day to break in new shoes. Please wear comfortable shoes with a flat, solid, thick, or wedge heel. We do not want to damage the astroturf.
There is no area to store any personal items, so limit what you bring with you.
Provide your guests with the map (copies available on the rehearsal table).
There are no strollers, umbrellas, or balloons allowed in the stadium.
Webpage Updated: 5/4/22