Prospective Students
---
Announcements
ATI TEAS Version 7 will be released June 3, 2022. Effective July 1, 2023, the LAHC Nursing Program will only accept scores from the new TEAS Version (ATI TEAS Version 7). Version 6 will be accepted through June 30, 2023. See more information here.
We will accept online prerequisite science courses, for the time being, based on the current impact of COVID-19. We will accept these online prerequisite science courses from the schools LAHC has traditionally accepted courses from. Any courses not already accepted at LAHC will require a Petition for Course Equivalency. We strongly advise to meet with a counselor about enrolling in an online prerequisite science course and determine its articulation at LAHC.
If you select P/NP as a grade on any of the science prerequisites, you may potentially impact yourqualifying minimum GPA requirement of 2.5. We strongly advise all students considering the option of P/NP as a grade, particularly in the science prerequisites to make an appointment with counseling before deciding on this option.
Starting with the SPRING 2020 application period (AUGUST 2019), the Los Angeles Harbor College Associate Degree Nursing Program will be utilizing a multi-criteria admission process to select applicants. Qualified applicants will be selected as follows:
50% selected using multi-criteria admission
50% selected using random lottery
LVN-RN Transition Courses
Nursing 329 A/B, are not offered in the Spring semester.
Those interested in the LVN-RN route for Spring 2021 are encouraged to apply for the Generic route. We apologize for the inconvenience and appreciate your understanding.
Starting Fall 2019, LVN-RN transition courses (Nursing 329A and 329B) will be offered during Fall semesters only (Fall 2019, Fall 2020, and so on). LVN's are welcome to apply through the Generic route that is regularly offered twice a year.
Admission Information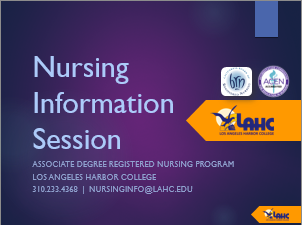 View the Information Session Slideshow
Information Sessions via Zoom
Effective with the Fall 2019 application period, applicants will be required to attend a nursing program information session prior to submitting an application.
Dates of information sessions will be available on the nursing website. Applicants will be given proof of attendance at the conclusion of the information session to include with their application.
Seats are not guaranteed - they are available on a first-come, first-served basis.
---
Wednesday, January 25, 2023 4:00-6:00 pm
Friday, February 3, 2023 11:00-1:00pm
Thursday, February 9, 2023 1:00 - 3:00pm
Friday, March 10, 2023 9:00-11:00am
Thursday, April 6, 2023 4:00-6:00pm
Tuesday, May 9, 2023 5:00-7:00pm
Thursday, June 1, 2023 5:00-7:00pm
---
Generic & LVN-RN Routes
Nursing Information Sessions are being held online via Zoom. Registration links are pending.
You must have compatible equipment in order to participate in a Zoom meeting. See here for Zoom system requirements.
Prompt attendance is strictly required. The Zoom meeting room will be locked and those who arrive after the starting time will not be allowed entry.
Please allow up to 2 - 2 1/2 hours for Information Session and questions.
Dates and times subject to change.
Application Form
Only use the forms provided on this page. Other versions will not be accepted. Please read the instructions included with the application.
NEW! See this guide on how to complete the Nursing Application Form.
First-Time ​Applicants:
Use this form if it is your first time applying, of it has been more than one year since you have last applied.
---
Applied In the Last Year:
Use this form to reactivate your application if you are re-applying within one year.
---
If you are re-applying:
Complete the Application to Re-Apply
You do not need to re-submit transcripts or documents with your application or to Admissions unless there are any updates (e.g. additional classes taken, updated GPA, degree posted, etc.).
You do not need to attend another Information Session as long as your Proof of Attendance is within one year of issue.
ADN Supporting Documentation Form - please complete this form if you qualify for Life Experiences factors:
First generation of family to attend college
Difficult personal or family situations or circumstances
Include this form with your nursing application.
Transfer Recommendation Form - please complete this form if you have previously attended another RN program. This must be returned by the program director of your previous program.
Application Period
​Applicants are encouraged to submit applications Monday - Thursday, when personnel are more likely available to address inquiries. Fridays are also available to submit applications; however less personnel may be available.
---
Admission for Spring 2023
Mon, Aug 29 - Thu,Sep 15, 2022
ATI TEAS Testing - ​TBD
Admission for Fall 2023
Mon, January 30 - Thu, Feb 16, 2023
ATI TEAS Testing TBD