Welcome to Culinary Arts

Courses | Student Info | The Bistro
---

Since 2006, Los Angeles Harbor College's Culinary Arts program has offered highly comprehensive classroom and practical instruction delivered by experienced industry professionals. Our full-production model is unique among other culinary programs because it provides students with the opportunity to develop their skills in a real-time environment. Once completing the program, students are prepared to meet the challenges of their new culinary careers.
Our fully accredited program with Associate Science degree fulfills all transfer requirements within the California State University system. Los Angeles Harbor College's Culinary Arts program is heavily involved and supports local non-profit agencies and organizations. Our partnerships with Port of Los Angeles, the offices of City Councilman Joe Buscaino, Boys and Girls Club, Foster Children's Association, The Beacon House, etc., promotes a positive, mutually beneficial relationship between our students and the surrounding communities of the South Bay.
So join us and become part of a dynamic and challenging career in hospitality and food service!
An Associate Science Degree in Culinary Arts is designed to prepare & qualify students for a career in the rapidly expanding Hospitality & Food Service Industry. This unique program provides students with concept theory and full-production practical experience. Upon completion of the program, students can begin their culinary careers as cooks in restaurants, catering companies, hotels, schools, hospitals & institutions or as purchasing agents, food sales representatives or consultants. The career possibilities are limitless. The Associates Degree consists of general education core components, 18 units in the major and additional elective units to meet the minimum compulsory 60 unit total.
Program Learning Outcomes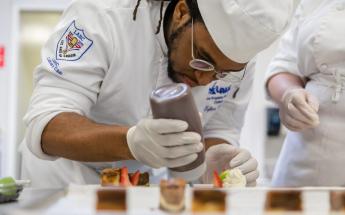 Upon successful completion of the program, students will be able to:
Execute verbal, written, and visual instructions in recipe and menu development utilizing the art and science of cooking

Communicate effectively with customers, co-workers and management considering the diverse composition of the team and guest;

Use mathematical concepts and methods to analyze recipes, products, pricing, and vendor services to purchase goods;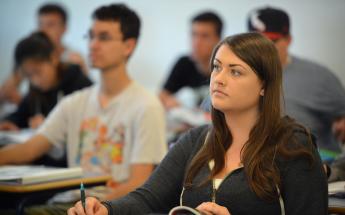 Demonstrate proficiency in any station of a commercial kitchen including the Garde Mange, butcher, savory, pastry, and short order areas;

Demonstrate the skills necessary for employment as a manager of a small restaurant operation including utilizing the computer to perform research on culinary and management topics.​
Culinary Arts Certificates