Welcome to Kinesiology
---
The Student Transfer Achievement Reform Act (Senate Bill 1440, now codified in California Education Code sections 66746-66749) guarantees admission to a California State University (CSU) campus for any community college student who completes an "associate degree for transfer", a newly established variation of the associate degrees traditionally offered at a California community college. The Associate in Arts for Transfer (AA-T) or the Associate in Science for Transfer (AS-T) is intended for students who plan to complete a bachelor's degree in a similar major at a CSU campus.
Students completing these degrees (AA-T or AS-T) are guaranteed admission to the CSU system, but not to a particular campus or major. Students transferring to a CSU campus that does accept the AA-T or AS-T will be required to complete no more than 60 units after transfer to earn a bachelor's degree (unless the major is a designated "high-unit" major). In order to earn the AA-T in Kinesiology, students must complete: a minimum of 18 semester units in the major (20-21 for this degree) with a grade of C or P or better while maintaining a minimum grade point average (GPA) of at least 2 in all CSU transferable coursework; 60 semester CSU-transferable units using the California State University-General Education-Breadth pattern (CSU-GE Breadth); OR the Intersegmental General Education Transfer Curriculum (IGETC) pattern; no more than 60 semester units are required.
Program Learning Outcomes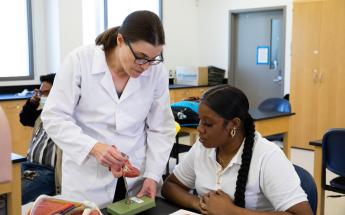 Upon successful completion of the program, students will be able to:
Demonstrate the principles and skills to develop a curriculum for the discipline of physical education.
Assess how National Mandates and Standards are needed to improve the physical education curriculum. Compare the fields of recreation, dance and sport. Explain how sub disciplines or fragmentations of physical education relate to health.
Assess risk factors for stress, reproductive health, infectious diseases, major chronic diseases and personal safety.
Demonstrate that diversity of career and professional opportunities are available in school and non-school setting.
Faculty:
Nabeel Barakat
Department Chair
Email: barakanm@lahc.edu
Phone: (310) 233-4351
---
Leslie Trujillo
Office Hours
Contact Info (email, phone, office #)
Dean Dowty
Office Hours
Contact Info (email, phone, office #)
Norkor Omaboe
Office Hours
Contact Info (email, phone, office #)
Marc Alvillar
Office Hours
Contact Info (email, phone, office #)