The 14th Annual
Athletic Hall of Fame
@ The Dalmatian Club
1639 S. Palos Verdes Street
San Pedro, CA 90731
The 2023 Hall of Fame Inductees:
Shawnae Campbell - Softball
Stuart Horn - Lifetime Achievement
Rodney Van Lue - Baseball 
Nick Van Lue - Lifetime Achievement
Peter Navy Tuiasosopo - Lifetime Achievement
Joey Miller - Baseball 
Carey Lundstrom - Baseball 
Clarence Palmer - Track & Football 
George Swade - Lifetime Achievement
Cameron Stephenson - Football
John White IV- Football
Call us if you still would like to purchase a ticket.  At this time we are reaching full capacity.
PLEASE CONTACT SIMONA RAMIREZ AT (310) 233-4339 OR RAMIRES4@LAHC.EDU TO PURCHASE YOUR TICKET VIA PHONE OR MAKE ARRANGEMENTS TO PAY ON THE DAY OF EVENT. 
Free - 0 - 7 yrs old
$45 children 8 - 14 years old
$75 - 15+
Table of 8 - $600
Sponsorship Levels Available
Platinum: $5,000
Gold: $2,500
Silver: $1,500
Bronze: $500
Full Page Ad: $1,000
1/2 Page Ad:  $500
1/4 Page Ad: $250
Schedule for the Evening:
5:00 pm - 6:00 pm:  Check-In | Meet and Greet | No Host Bar at the Dalmatian Club
6:00 pm - 9:00 pm:  Dinner | Induction Ceremony
Hotels in the area: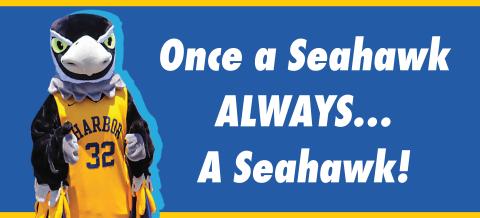 Once a Seahawk always a Seahawk Image
More information to follow.
If you would like to be placed on the mailing list or update your address, please email
foundation@lahc.edu or call (310) 233.4339.  Help us cut costs and provide us with your email address.
We had a GREAT time at the 13th Annual Athletic Hall of Fame!​​​​
Click Here to watch a short video of the night!​
We'd love for you to be a part of the growing Harbor Alumni Family.​
Please click on "Harbor Alumni Family" and let us connect with you.
Email us at foundation@lahc.edu
Thank you to our 2019 Sponsors 
SSA Marine, SA Recycling, City of Los Angeles, Jim Hight, Jerry Rodich
Dick Harris, Janet Fischer, Nomra Marich, Frank Hardy, Felton C. Williams, Ph.D., Sherri Ashman, Juan Baez, Ivan Clarke, Elika Dadsestan, Rhea Estoya, Priscilla Lopez, Ed Pai, Ron Raquette, Dawn Reid, Nelly Rodriguez, Sandra Sanchez, Carole Steveon, Chevi Subramaniam, Leslie Trujillo, Mercy Yanez
Thank you to our 2019 Silent Auction Donors!
Los Angeles Angels, Spongelle, LAHC Hall of Fame Committee, Peter Bostic, Jerry Rodich, Sandra Sanchez, LA Chargers, Nelly Rodriguez
---
If you are in contact with any alumni, please let us know. We'd love to connect with them. Please email us at foundation@lahc.edu with the information.
 
The 2019 inductees included:
Michael Ray Baumgarner (1967-68), Football
Marvin Benard (1990), Baseball​​
Martin & Kathy Blankenship (1967-1971), Lifetime Achievement
David Elecciri (1968-69), Lifetime Achievement
Sam Mart​in (1971-73), Basketball
Georgia "Lynn" Emeline (McGuire) (1987), Meritorius Service
Elvira (Vera Gascon) Radar (1949-1950), Meritorious Service
Michael Young (1983-1984), Baseball
2017-2018 - Women's Cross Country Team - State Champs

Alexa De La Pena
Samantha Deroo
Rosa Garcia
Dalila Gonzalez
Andra Gonzalez-Macias
Cynthia Melendez
Estrella Montiel
Olivia Quezada
Brenda Rosales-Coria
Heizel Zuniga

Head Coach: Geoff Skarr
Assistant Coaches: Melissa Cortes, Chris Pinelo, Brandon Bernasconi
---
Foundation Office - General Information