LAHC Swap Meet
General Information: 310-835-5351 
Los Angeles Harbor College Swap Meet 
1111 Figueroa Place, Wilmington, CA, 90744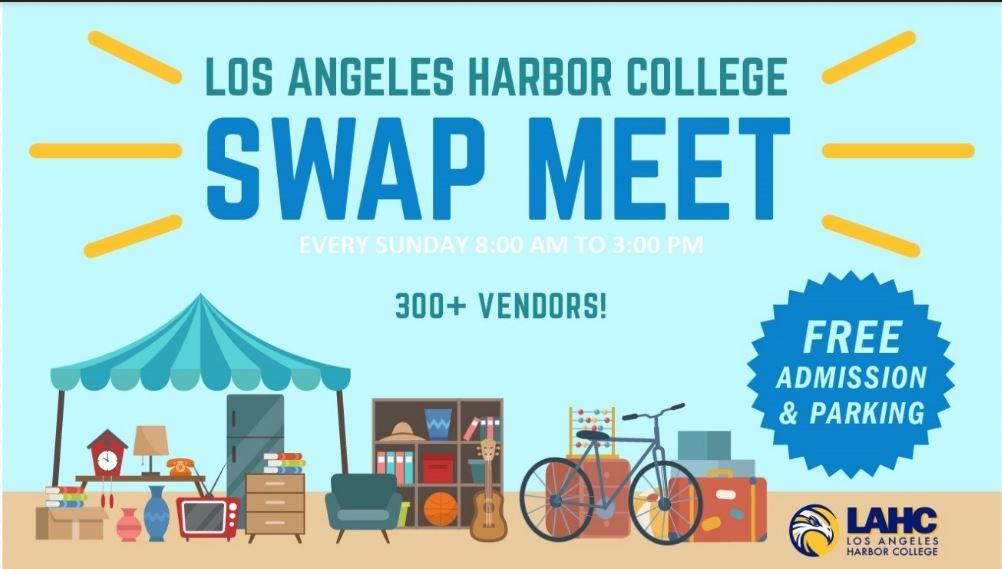 Every Sunday 8:00AM to 3:00PM 
Always Free Admission! 
Tools – Clothing – Toys – Antiques – Food 
We Have It All! 
INFORMATION FOR CUSTOMERS 
What you need to know: 
Per new fire department policies, we can no longer allow entrance to the swap meet area until 8:00 am.  Please do not arrive early. 
Per new fire department policies, we can no longer allow customers to be in the swap meet area after 3:00 pm.  You will hear loud speaker announcements starting at 2:45 pm. 
INFORMATION FOR NEW SELLERS (revised July 2023)
A limited number of spaces will be available on the morning of the Swap Meet starting at 5:00 am for immediate purchase and use.  There are 2 ways to register and become a new vendor at the LAHC Swap Meet, Early Bird, and Reserved Sales.  For both you will need a valid California Driver's License, a mobile phone photo of your auto license plate, and a valid Seller Permit from the California Department of Tax and Fee Administration (CDTFA).  Vendors may sell one time in a year without a Sellers Permit at this location.  Entry to this swap meet is limited, and gates will be locked at 7:15 am. 
Early Bird (early morning spaces) begin at 5:00 am and stop at 7:00 am.  This is on a first-come/first-serve basis.  Space prices are $60 for Standard spaces & $70 for Corners. 
Reserved Sales begin at 10:00 am every Sunday.  These sales are for the monthly rental of the same space.   You are required to have a Sellers Permit and $210 for the first month rental fee. 
Corner Spaces will be sold in a purchased drawing and will be eligible for a 12 Sunday purchase only.  For dates on this lottery, please see the 'corner spaces sign' in our office. The fee will be $900.00, and is payable in-full at the time of winning the drawing. These spaces are not eligible for credits.  Some corner spaces have 2 parking spaces and others have 3 parking space areas as well as a small island area. 
REMINDER:
Selling food or drink products is prohibited.
---
INFORMACIÓN PARA NUEVOS VENDEDORES (revisada en Julio de 2023)
Un número limitado de espacios estará disponible en la mañana del Swap Meet a partir de las 5:00 am para su compra y uso inmediato. Hay 2 formas de registrarse y convertirse en un nuevo proveedor en LAHC Swap Meet, Early Bird y Reserved Sales. Para ambos, necesitará una licencia de conducir válida de California, una foto de teléfono móvil de su placa de automóvil y un permiso de vendedor válido del Departamento de Administración de Impuestos y Tarifas de California (CDTFA). Los vendedores pueden vender una vez en un año sin un permiso de vendedor en esta ubicación. La entrada a esta reunión de intercambio es limitada, y las puertas se cerrarán a las 7:15 am.
Early Bird (espacios temprano en la mañana) comienza a las 5:00 am y se detiene a las 7:00 am. Esto es por orden de llegada. Los precios del espacio son de $ 60 para espacios estándar y $ 70 para esquinas.
Las ventas reservadas comienzan a las 10:00 am todos los domingos. Estas ventas son para el alquiler mensual del mismo espacio. Se requiere que tenga un permiso de vendedor y $ 210 por la tarifa de alquiler del primer mes.
Los espacios de esquina se venderán en un sorteo comprado y serán elegibles solo para una compra de 12 domingos. Para conocer las fechas de esta lotería, consulte el "letrero de espacios de esquina" en nuestra oficina. La tarifa será de $ 900.00 y se pagará en su totalidad al momento de ganar el sorteo. Estos espacios no son elegibles para créditos. Algunos espacios de esquina tienen 2 espacios de estacionamiento y otros tienen 3 áreas de estacionamiento, así como una pequeña área de isla.
RECORDATORIO:
Está prohibida la venta de productos alimenticios o bebidas.
Los Angeles Harbor College Swap Meet is a member of the California Swap Meet Association
We're on TWITTER @LAHC_SwapMeet
For all the latest news and information