Swap Meet
General Information: (310) 835-5351
Los Angeles Harbor College Swap Meet
1111 Figueroa Place, Wilmington, CA, 90744
We're Back!
Tools – Clothing – Toys – Antiques – Food
We Have It All!
Every Sunday 8:00AM to 4:00PM
Always Free Admission!
We're on TWITTER @LAHC_SwapMeet For all the latest news and information.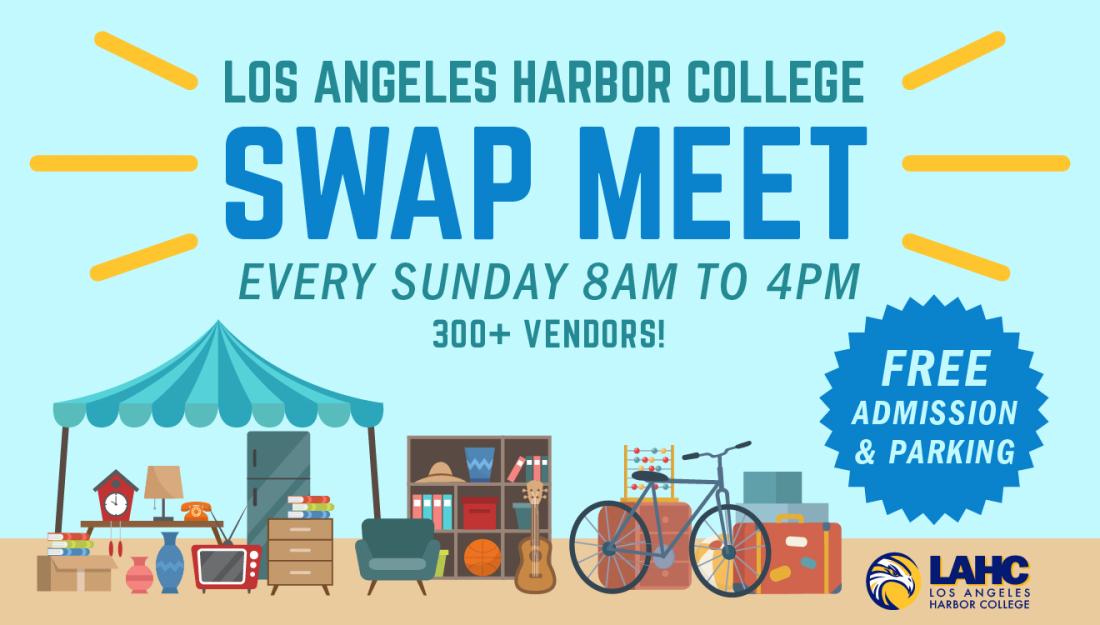 INFORMATION FOR NEW SELLERS
There are 2 ways to register as a new vendor at the LAHC Swap Meet. 1st is Early Bird, and 2nd is OTO. For both you will need a valid California Driver's License, a copy of your license plate, and a valid Seller Permit from the California Department of Tax and Fee Administration (CDTFA). We limit these lotteries to one (1) entry per person.  Vendors may sell one time in a year without a Sellers Permit at this location. Entry to this swap meet is limited, and gates will be locked at 8:00 am.
Early Bird (early morning spaces) for $55 for Standard space & $65 for Corners.
A limited number of spaces will be available on the morning of the Swap Meet starting at 6:00 am for immediate purchase and use. Numbers to a random bingo ball process will be handed-out at 5:30 am. We stop selling these spaces around 6:30 am.
OTO (One-Time Only spaces) for $55 for Standard space & $65 for Corners.
After Early Bird spaces are sold, any vacant spaces will be available in a 2nd random bingo ball drawing for the same prices. Vendors may register for this lottery from 6:30 am to 7:00 am.
Reserved (spaces paid for in advance)
Reserved spaces will be available for purchase for the following week between 11:00 am and Noon on Sunday. You must have your valid California Driver's License and a valid Seller Permit with our address to purchase a space, and you must pay for 4 weeks to qualify for a Reserved Space.
Corner Spaces
At certain times of the year Corner Spaces will be sold in a purchased drawing and will be eligible for a 3 month purchase only. For dates on this lottery, please see the 'corner spaces sign' in our office. The fee will be $880.00, and is payable in-full at the time of winning the drawing. These spaces are not eligible for credits. Some corner spaces have 2 parking spaces and others have 3 parking space areas as well as a small island area.
---
REMINDER: Selling food or drink products is prohibited.
Los Angeles Harbor College Swap Meet is a member of the California Swap Meet Association