Welcome​ to Journalism and Public Relations
---
The Journalism program offers an associates of arts transfer degree to the California State University system and four, nine-unit skills certificates that demonstrate excellence in the field: Basic knowledge of the craft, Layout and design skills, Journalism and Public Relations methodology and knowledge and writing and creating publications. Courses include working on the staff of the award-winning Harbor Tides student newspaper and its family of social media, including a student news website. Journalism students are offered courses designed to train in desktop publishing skills and for editorial and photojournalism jobs on daily and weekly newspapers, magazines, trade journals and consumer publications. They also are prepared for work as freelance writers and as writers for television and radio news programs. For non-majors, many of the courses offered in the journalism program are designed to enhance writing technique, note-taking and leadership skills, among others.
The program will:
introduce students to journalism pathways and careers.
provide foundational knowledge necessary for a career in journalism.
better prepare students for entry into a journalism pathway.
Program Learning Outcomes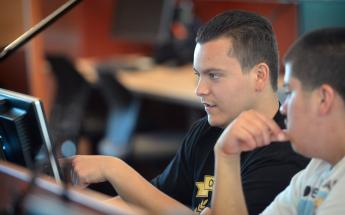 Upon successful completion of the program, students will be able to:
Research, write, and produce news stories for print or broadcast.

Edit news stories for print, demonstrating mastery of Associated Press style.

Demonstrate knowledge of convergent media techniques including online and broadcast news writing.

Assemble a print portfolio of published news articles and or photographs. Student may also collect digital samples of converged media work product such as online or Internet broadcast samples of work.