Hispanic Heritage Month at Harbor College was Educational and Fun
October 17, 2022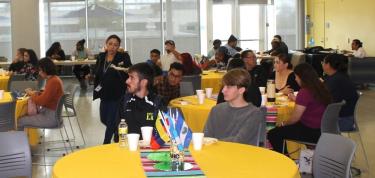 Los Angeles Harbor College celebrated its 5th annual Hispanic Heritage Month in October to honor and recognize the contributions and successes of its Hispano, Latino, and Chicano community on campus.
The Puente Project hosted the first event with the Chicano Read In where more than 50 participants listened to poetry and essays. Readers included Dr. Dorado, president of Harbor College, Acting Vice President of Academic Affairs, Mr. Juan Baez, and the Puente Project students. The following week, our guest speaker Ron Gonzales presented "Mexican Americans in Baseball" which looked at the storied history of baseball players in the South bay who influenced generations of youth.
Mauricio Cedillos moderated a Latino Leadership Panel, including Cristian Amaya from State Farm; Angelica Torres Dominguez from E-trade; and Bryan Martinez, who spoke of challenges and successes and the role of mentoring.
The month ended with a fun-filled closing celebration with music, song, dance, and, of course, delicious tacos! Our keynote speaker Prof. Leslie Trujillo inspired us with her call to "Get Loud" and "share your story, to show others what is possible."