Reggie 5K Run/Walk For Education
Saturday, October 28, 2023
8:00 am - 11:00 am
Public Event
Reggie 5K Run/Walk For Education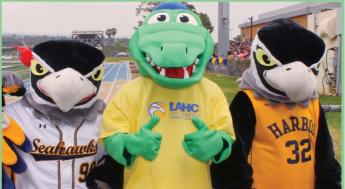 Harbor College Reggie Run for Education
Benefits Students in Need and Scholars
The Los Angeles Harbor College Foundation is hosting the Inaugural Reggie Run for Education on October 28, 2023.  Fifteen years ago, the amazing Reggie, as he was affectionately coined, was captured behind Harbor College in Machado Lake, a majestic component of Ken Malloy Regional Park.  Reggie became Harbor College's informal mascot as community members, young and old, still love Reggie, who now resides at the Los Angeles Zoo.
Harbor College Alumni and Los Angeles City 15th District Councilman, Joe Buscaino, is the title sponsor of the event, set to benefit the LAHC Foundation and the students of Harbor College.  The LAHC Foundation is on the verge of awarding its most scholarships ever to students since its founding in 1972, for their academic achievements and to fill the needs that students are facing.
During the 5K, runners and walkers will be treated to refreshing smoothies from Harbor College's distinguished Culinary Program.  In addition, participants will enjoy a Health Fair, supported by Providence Little Company of Mary and Behavioral Health Services, a display of classic cars from both the Pharaoh's and Viejitos Car Clubs and a glimpse of Programs and Services Harbor has to offer.  The run and activities will conclude with awards for Best Team or Individual Reggie Outfit, fastest Male/Female in the teen and adult categories, and for the 1st Adult, High School and Middle school teams (teams of 5) to finish the course.
"Reggie unified our community years ago and now once again he will bring us together. This time he brings with him an array of community support items including health screenings and important information. It's also a great opportunity to have fun with friends and neighbors running and walking together on a beautiful Harbor College morning," said David Gascon, Los Angeles Harbor College Foundation President.
For more information contact the Foundation Office 310.233.4011
1111 Figueroa Place
Wilmington, CA 90744
United States